As a university for continuing education Danube Univeristy Krems 'upgrades' your knowledge: the eponymous magazine covers from different perspectives academic continuing educational trends and topics related to society and education policy opening space for an interdisciplinary approach.
upgrade – Danube University Krems' magazine for knowledge and academic continuing education, is only available in German. However, please find selected articles in English in the section below.
upgrade 3.18 - know yourself

For the development of a career on thing is especially important: know yourself! Where do the individual strengths lie, what are the aims? What hold us back, what makes us thrive? In the current edition upgrade focuses on a topic that concerns all of us. It sheds light on both the subjective and the structural aspect of a career. In particular coping with fear in work life, the sociological point of progressing and the topic how to develop the employee's competences versus crowd funds, and last but not least the hidden obstacles women and immigrants are confronted with when shaping their professions. The series of images depicts that careers don't necessarily develop as straight as an arrow.
The entire issue is available on the German site
Selected articles of the current issue in English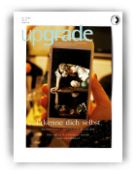 Order upgrade 3.18
Order this issue free of charge or subscribe for upgrade (only available in German)
Order now