As a university for continuing education Danube Univeristy Krems 'upgrades' your knowledge: the eponymous magazine covers from different perspectives academic continuing educational trends and topics related to society and education policy opening space for an interdisciplinary approach.
upgrade – Danube University Krems' magazine for knowledge and academic continuing education, is only available in German. However, please find selected articles in English in the section below.
upgrade 3./4.20 -

Reflection & Perspective

Since the foundation of Danube University Krems 25 years ago, university-based continuing education has achieved a high level of quality. It was then in 1995 when the foundation was regarded innovative, and to this day Danube University Krems has set numerous accents in academic continuing education as well as in the Austrian science and university system. On the occasion of the anniversary the special issue "Reflection & Perspective" of the university magazine upgrade is published to take a closer look at Danube University Krems being the only public university for continuing education within the German-speaking area. At the same time, the issue sheds light on current questions and the potential academic continuing education has to offer.
The entire issue is available on the German site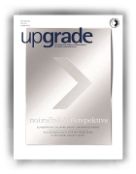 Order upgrade 3./4.20
Order this issue free of charge or subscribe for upgrade (only available in German)
Order now